The IPACK-IMA of the future, the vision outlined by Valerio Soli
IPACK-IMA 2025, a fresh strategy oriented towards innovation is on the way. Valerio Soli, chairman of Ipack Ima, discussed it.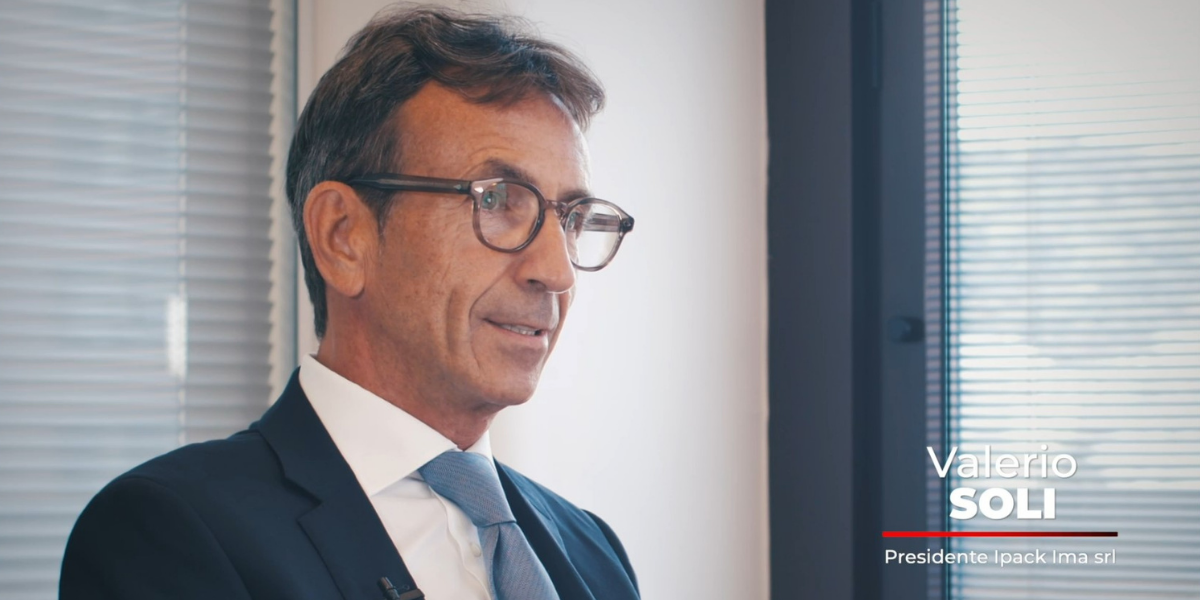 Rho - 25 October 2023. Continuing in the tradition that regards IPACK-IMA as a pivotal player in understanding the requirements of the processing and packaging market, the 2025 show is emerging as a testing ground for significant innovations.  It also marks a starting point for a new approach to the concept of a trade fair event on which the Milan-based event will demonstrate, once again, its historic aptitude for innovation. Valerio Soli, chairman of Ipack Ima, discussed it.


Exciting developments and a long-term perspective.
"The 2025 show, for which we've already secured substantial attendance subscriptions and confirmations from our primary customers, is designed to act as an accelerator for the driving principles behind the success of 2022. That year, the key themes were digitalisation, sustainability, and innovation." - Valerio Soli began.

"These topics remain highly relevant, and we expect them to continue to evolve and increase in the years to come, finding more in-depth applications within various industries. IPACK-IMA will undoubtedly be well-prepared for this progression and our responses will address the industry's changing requirements and emphasise emerging themes, focusing particularly on the higher performing markets such as grain-based food, beverages, and pharmaceuticals. At the same time, we won't overlook the event's origins, reinventing them within a broader context that spans secondary and tertiary packaging to end-of-line solutions, encompassing robotics and factory automation in general too."

An exhibition model that already serves as a benchmark for the industry.
It may seem like a cliché, but IPACK-IMA 2025 marks a turning point for the long-standing concept of the all-encompassing fair. This change has come about thanks to thorough discussions with key exhibitors and industry players, which have concentrated their business promotion activities in the trade fair channel.

"We will be seeing a substantial change in the approach to organising and conducting trade fairs." Valerio Soli continued: "IPACK-IMA can count on insight into the market from UCIMA and Fiera Milano, which both offer advanced expertise in understanding the economic forces that drive the packaging industry and trends in events. This synergy enables us to abandon the conventional notion of a general-purpose trade fair, and instead convert it into a sector-specific focal point and an ideal platform for addressing the industry's key concerns. Our customers suggested that the classic three-yearly schedule of our event no longer aligns with the rapid pace of technological advancements and market changes.  That is why, from 2025 onwards, we will be departing from the extensive three-year fair model and moving towards a series of interconnected trade fair events, each focussing on specific product sectors. This approach will guide exhibitors through technological advancements in a more consistent and timely manner up until 2028."

A sound institutional network with a strong international orientation.
Last but not least, during this phase of close interaction with the market and its key players, we must not forget our ongoing partnership with the "The Innovation Alliance" project and the three concurrent fairs, namely Print4All, Intralogistica, and GreenPlast, which provide a valid overview of the allied industrial machinery supply chains.


 "In addition to our capability to meet the requirements of the entire supply chain through strategic institutional partnerships, our strong international orientation is a further strength." - Mr Soli ended.  "This position is upheld by a network of over 20 agents operating in the primary markets across Europe, North Africa, and Asia, whose sales activities are supported by their active participation in leading international events. We have a pasta-focused event scheduled in Algeria, others relating to the pharmaceutical industry in Spain and Germany, and more generally, a whole series of packaging-related events planned for various locations in Asia over the coming months. These initiatives confirm our steadfast commitment to internationalisation, which has always been a key characteristic of our organisation and will be further consolidated in the 2025 show. The path has been charted, the strategy is clear, the team - led by Simone Castelli - is performing well, all of which makes me confident that the next exhibition will further enhance the value of IPACK-IMA."

Watch the full interview here: https://www.youtube.com/watch?v=MTvCHDTpvqk

IPACK-IMA MILANO – Press Office
Intono Comunicazione
Annalaura Mucci - +39 346 304 7944
annalaura.mucci@intono.it
Marco Fiori - +39 334 600 7739
marco.fiori@intono.it

press@ipackima.it