For Laminati Cavanna, a year of great success between flexible packaging and sustainability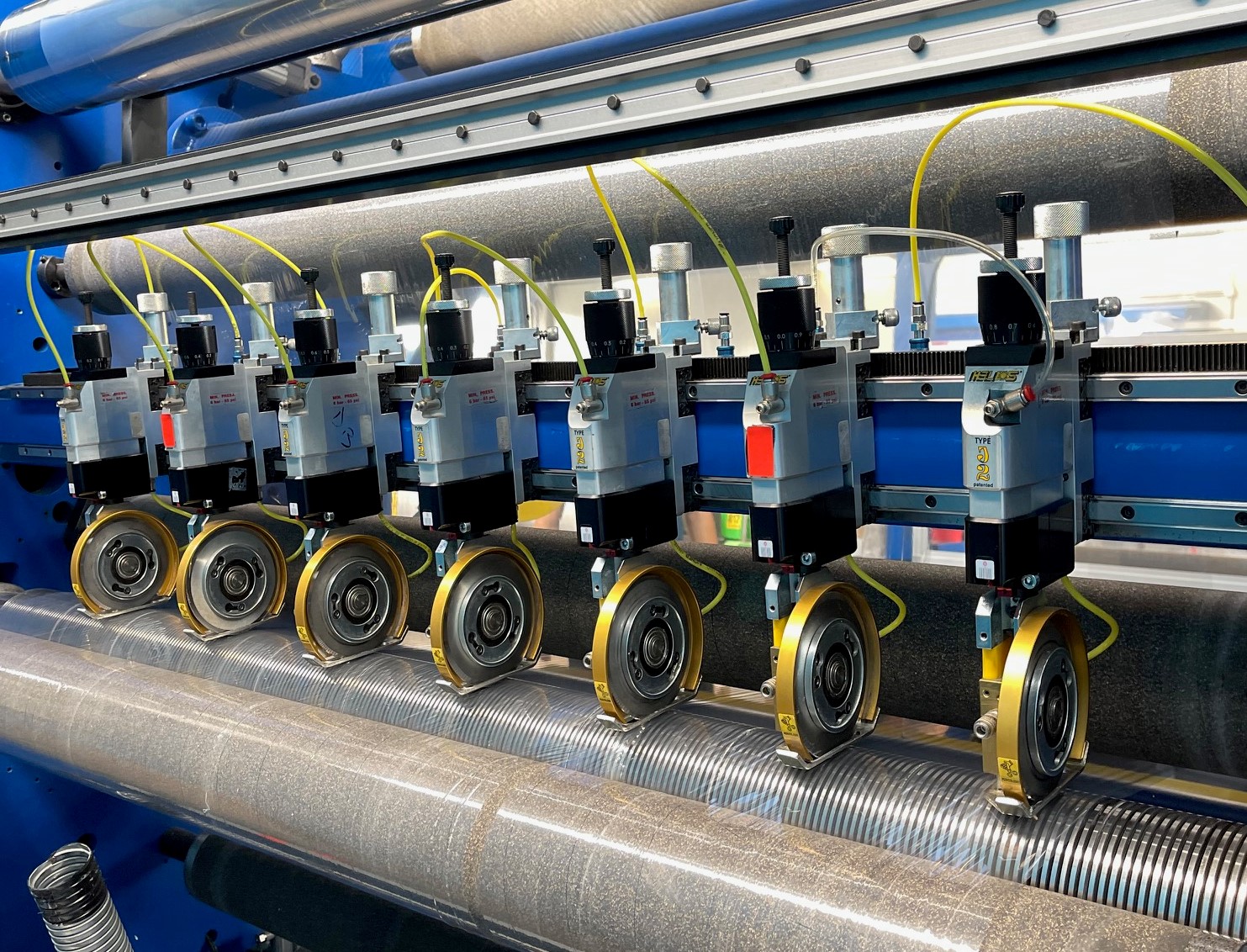 Laminati Cavanna Spa is an historical company in the province of Piacenza, which since 1969 has been a subcontractor partner of important national and international converters, and a leader in the lamination, lacquering and slitting of reels in the flexible packaging sector. We asked Anna Paola Cavanna, President of Laminati Cavanna, what's new in the sector, also considering the various institutional roles she holds as President of the Istituto Italiano Imballaggio, President of the Fondazione Carta Etica del Packaging, and Vice-President of CONFAPI Piacenza, with responsibility for sustainability.

What technology do you particularly value at this time?
"In recent years, the market's and end consumers' demands for packaging sustainability are increasingly pushing converters towards recyclable, single-material, multilayer solutions designed to replace traditional structures," says Anna Paola Cavanna. "Laminati Cavanna, in its role of subcontractor, acts as an intermediary between the technology supplier and the packaging manufacturer, a collaboration between the parties in order to find sustainable and recyclable packaging solutions. Our company is very involved in finding new solutions always close to the end customers. We offer our experience and our machinery to experiment with new structures and find innovative solutions always respecting technical and production specifications. We are all moving within increasingly pressing regulations along with a continuous evolution of European legislations; companies are increasingly involved and react promptly to requests from both the reference market and the supply chain consortia, even though there are obviously technical deadlines to be met for the updating of machinery and technologies. The "traditional" multilayer structures designed over the years and increasingly perfected to meet and satisfy the functions of product preservation and protection are in fact the result of research and development carried out by companies in collaboration with laboratories and certification bodies to optimise the performance required by the packaging. Each material has specific characteristics that make it unique and suitable for certain applications. Polyester is the most suitable material for printing, nylon provides a good barrier; polyethylene provides extraordinary weldability in all conditions and excellent slipperiness on packaging lines; polypropylene is an excellent sealer on structures subjected to thermal cycles and aluminium provides an absolute barrier to light, oxygen and moisture. Multilayer packaging allows the characteristics of the various materials to be mixed to achieve the required objectives of product protection and preservation.
"We process 50 tons of product a day," says Anna Paola Cavanna. "The challenge is to re-design suitable and high-performance solutions in terms of both runnability and cost, while always guaranteeing food safety and all those variables that are essential for processing on the printing, laminating and packaging lines. This is not always easy to achieve, partly because certain solutions require high barrier standards and if they undergo stressful thermal processes this warranty is particularly complex. The market and the companies are moving fast to find valid alternatives; the focus is certainly on recyclable packaging and compostable materials and structures, even if there are still many critical issues that need to be addressed and resolved.
What are your expectations for the event?
"This is the first time we are taking part in a trade fair," says Cavanna. "We are very happy that it is IPACK-IMA: an international trade fair in Milan, which brings together the excellence of our country. There is great enthusiasm and great expectations within our company: we have decided to take an exhibition space where we can explain our processing and specialization; there will be an opportunity to meet our customers and hopefully make new contacts, both Italian and from abroad. Certainly, the exhibition is the optimal showcase where new technologies and applications can be highlighted. As subcontractors, we would like to highlight our know-how, the result of more than 50 years of experience in the flexible packaging sector, including lamination, lacquering, slitting and reel grinding.
What market prospects do you see for 2022?
Our nature as a subcontractor imposes great flexibility, organisational capacity, planning and speed," says Anna Paola Cavanna "We are proud to be partners of international converters who trust us and with whom we have established a relationship of collaboration. In recent years we have increased production capacity in lamination, we are able to do lacquering and varnishing, we have increased the number of slitters to better meet the phase of cutting the coils also as a post lamination phase. In 2019 we also invested in a grinding machine for rubber cylinders and sleeves as a side service which is giving us a lot of satisfaction. In our sector, certifications are increasingly important as a synonym for quality and hygiene, which is why we have been ISO 9001:2015 and BRC (grade AA) certified for years. We purchased a new Nordmeccanica solvent less machine in September 2021, which will be added to the other five lines; today we have three solvent laminating machines and three solvent less laminating machines for a total of six lines in the production department and two cutters in the cutting department.
Over the last few years, in order to cope with the increased demand for work, we have decided to change the company organization by introducing second shifts, which has also led us to hire new staff. This involved a lot of specific training, managing turnover and changing the working model. Today we have about 50 employees, most of them in production and logistics where our work is concentrated. This past year has been very challenging, not least because of the pandemic, increases in raw materials, and the cost of electricity and gas, but there has been no shortage of satisfaction: we have managed to fulfil all our orders and have recorded a 16% increase in turnover compared to the previous year.
Our main sectors are food and cosmetics, with 44%, industrial 30%, pharmaceutical 5% and electrical. During the 2020s, the Covid health emergency led to an exponential increase in demand in the food packaging and pharmaceutical sectors, with many customers converting their production and relying on us to handle production peaks. In recent years, however, there has been a resurgence in demand in the construction and electrical insulation sectors, where we have strong experience.
During 2022 we will publish our CODE OF ETHICS; a very strong push towards greater attention to packaging and environmental sustainability came when we decided to become Ambassadors of the Packaging Ethics Charter Foundation to give a signal also to our employees and customers.
In response to our customers' growing demand for more sustainable solutions, we have diversified our technology to produce solvent-based, solvent-free and water-based adhesives. This diversification allows us to offer different solutions, in line with new demands in terms of sustainability. In cooperation with customers and their technicians, we are working on several fronts: reducing the number of films to be laminated, replacing them with vacuum coating processes and lacquers; developing functional lacquer processes to be applied to paper, in order to obtain recyclable packaging. Finally, we are studying the possibility of having fully recyclable plastic packaging. These studies are always carried out aiming to maintain the barrier properties of the packaging, which has enabled us to avoid any interruption for the food and pharmaceutical sectors, especially during these years of pandemic. We think that we will increasingly move towards solutions that aim to reduce food waste and consumer health, working on shelf life. Also as an institute, we would like to take up and develop the dossier "Packaging extends life" because it is still a main focus and we think it is one of the issues of the future. Shelf life with new materials will probably tend to decrease, opening up a world of increasing food waste and transport, due to the inevitable change in the pace of supply. Going beyond traditional packaging will impact on many aspects of the supply chain and this needs to be considered at a system level.
Inevitably, given the role she holds, an in-depth look at the chairmanship of the Istituto Italiano Imballaggio (Italian Packaging Institute) and the Fondazione Carta Etica del Packaging (Charter of Packaging Ethics Foundation).
My first act of entry, in 2018 as President of the Istituto Italiano Imballaggio was to establish the Sustainability Commission, participated by 80 companies, which worked to define the development of the algorithm of the environmental sustainability of packaging, a tool that will guide members in defining their sustainability goals. The algorithm is a set of indices for evaluating packaging and a tool that serves as an indicator for companies, to begin a path that can then lead to processes, measures and certifications. The aim is to make it increasingly popular and recognized as a point of reference. Among other initiatives, I can mention training, an indispensable tool for giving positive value to packaging and defining its essential role in daily life and in the culture of sustainability. Another important aspect, in recent years, is the work we have done in the valorization of all materials as resources. The problem, as we know, is the end-of-life management of packaging, not the packaging material itself. When assessing the environmental impact of a packaging or prevailing material it is important, in my opinion, to do the correct LCA calculation and not stop at superficial assessments. With the algorithm, companies will have a tool available to consolidate their sustainability processes or undertake one from scratch. Today the institute has almost 400 members representing all sectors, including manufacturers, packaging users, trade associations, laboratories and consortia.
Environmental issues have always been very important to us, which is why we were the first to sign the Charter of Packaging Ethics, becoming Ambassadors of the Charter of Packaging Ethics Foundation, which was set up in May 2020 and now has 20 members and many projects already completed.
We will be present at IPACK-IMA as Institute and Foundation and on 4th May there will be a very important event: there will be the presentation of the algorithm, the BEST PACKAGING award and the Best Packaging Award, you are all invited!