Sacchital Group: eco-sustainable flexible packaging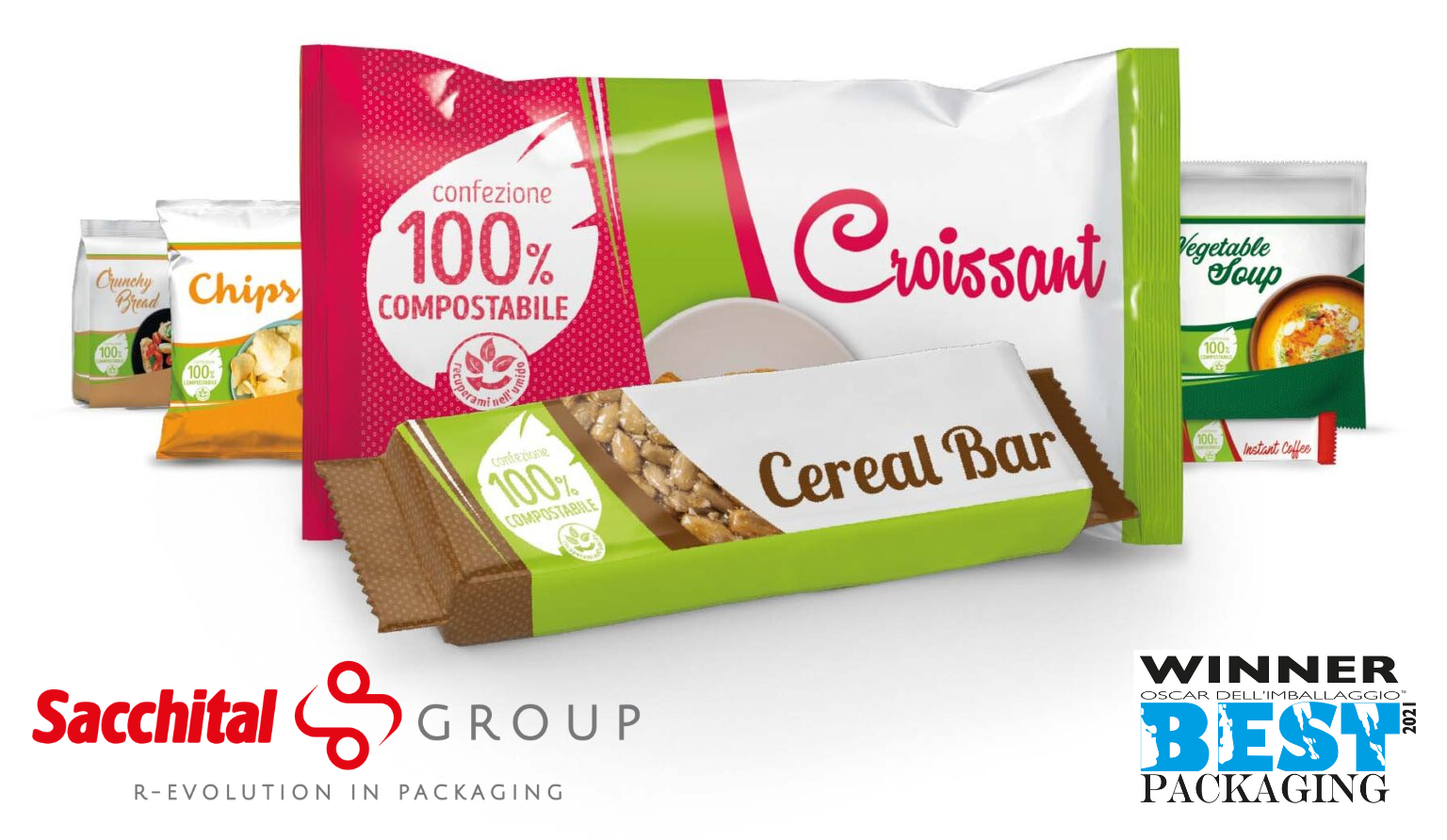 With over 75 years of experience in flexible packaging design and a consolidated paper processing know-how, Sacchital Group will be at IPACK-IMA 2022 as the ideal partner for the development of eco-sustainable flexible packaging for the food, cosmetics and parapharmaceutical sectors. In fact, Paperflex System® paper-based recyclable packaging lines, certified according to the Aticelca method, Compoflex System® compostable packaging, certified by TÜV Austria, and Monoflex System® single-material plastic packaging, certified as recyclable by the German Cyclos institute, are finding increasingly wide application.
These are all sustainable and innovative solutions designed to meet environmental regulations and current market needs. We explored this topic in depth by interviewing Paola Cerri, Sales & Marketing Manager of Sacchital Group.
Flexible packaging: what are the advantages and why is it the packaging of the future?
"In terms of sustainability, flexible packaging is a winner," says Paola Cerri. "Lightweight, easy to open and practical to transport, flexible packaging is environmentally friendly by definition, as it helps reduce food waste by extending the life of a food item hundreds of times over its natural spoilage cycle.
In the European FMCG market, flexible packaging is used for more than 47% of all consumer goods (except beverages) but represents only 13% by weight of the packaging material used (Source: IFEU Institute for Energy and Environmental Research, 2019).
Flexible packaging has always been one of the preferred packaging products in various sectors, particularly in the food category, thanks to its extreme versatility. But that's not all: today packaging is called upon to respond to new requirements closely linked to environmental sustainability, the quality of the materials it is made of and the role at the end of its life. And it is precisely in this direction that our research is directed.
From the consumer's point of view, packaging accounts for 32% in defining the sustainability of a food product, in second place immediately after the production method, which accounts for 33% (Source: Nomisma - Osservatorio Packaging del Largo Consumo/Consumer Survey, January 2021). Whether it is made from renewable or recyclable materials, or is simplified or "lightened" in order to reduce overpackaging, it is clear how much the environmental sustainability of packaging represents a fundamental marketing leverage in guiding the purchase choices of consumers, who are increasingly sensitive, informed and "educated" on the subject of recycling.
What are the latest technological innovations and proposals you have introduced to the market?
Our portfolio includes several sustainable packaging solutions, which are used in various product categories, from bakery to fresh products from coffee to chocolate, from dried fruit to fourth range. Many of these have already been tested and industrialised, others are in the development phase.
Sacchital technology is capable of ensuring perfect product preservation while guaranteeing the necessary barrier properties, protecting food from oxygen, steam, light and external atmospheres and maintaining high performance and efficiency during packing phases. Thanks to the particular attention paid to the eco-sustainable end of life, moreover, the choice of this type of packaging allows access to important fiscal advantages compared to traditional materials.
The year 2021 saw the release on the shelves of the first packs of chips and snacks made of paper and the first line of chocolate packaged in an innovative high-barrier compostable packaging, PaperCompost/HB®: the same packaging that allowed us to win, together with the Colussi Group, the "Best Packaging 2021" award organised by the Italian Packaging Institute, and that recently received recognition in the context of the "CONAI Call for Proposals for the Ecodesign of Packaging in the Circular Economy", with the aim of highlighting the most innovative and sustainable packaging solutions released on the market.
Still, in terms of innovation and design for eco-sustainable packaging, we have enhanced our Paperflex® System line by successfully testing new recyclable paper solutions for single-portion and multi-portion flowpacks with high barrier properties. Thanks to the use of ultra-thin papers and films, we were able to respect the performance of traditional films, significantly reducing the environmental impact of the packaging. This was also confirmed by the LCA (Life Cycle Assessment) studies we carried out comparing our paper-based solution with monofilm packaging. This is a scientific method of measuring and assessing the environmental performance of a product over its entire life cycle, taking into account: the extraction and processing of raw materials, the consumption of the resources involved, the material and energy used in the production processes, the impacts arising from the use of the product, and the waste and pollution created throughout the process until the end of the life cycle.
What are your next goals and what innovations are you developing?
"The focus on eco-design is guiding us towards the development of a wide range of advanced packaging solutions," continues Paola Cerri, "characterised by a very high oxygen barrier and an high percentage of paper - over 95% - which will allow us to achieve a level A of recyclability according to the Aticelca method, expressly requested by countries such as Germany, Austria and the UK. We are therefore talking about an highly innovative proposal in the test phase, which allows multiple end-of-life options and which will make it possible to combine the recycling potential and aesthetics of paper packaging with the mechanical properties and resistance of traditional packaging.
International regulations and the emergence of new distribution and consumption patterns require us to design packaging that is increasingly sustainable, 'light' and easy to recycle. Our aim is to create value and offer our customers concrete solutions and an increasingly comprehensive service in line with current market demands. We want to contribute in achieving the United Nations Sustainable Development Goals (SDGs), which aim to reach significant progress in meeting the world's economic, social and environmental challenges by 2030.
What are your expectations upon the event?
 "IPACK-IMA is an international event for professionals in the food industry where we operate, an important opportunity to meet and exchange ideas to create new business opportunities, network and present our innovations. At IPACK-IMA 2022 we expect to make contact with an increasingly select and informed audience in search of innovative solutions in terms of high performance and high added value materials, with a special focus on sustainability and Circular Economy.
In this scenario, it is clear the role that a company like ours can play, actively supporting customers in the design of circular packagings and promoting consumer education and involvement in sustainability choices. The IPACK-IMA 2022 exhibition represents an opportunity for us to present and share all our most innovative proposals.