Flexible packaging sustainability: SDR Pack's vision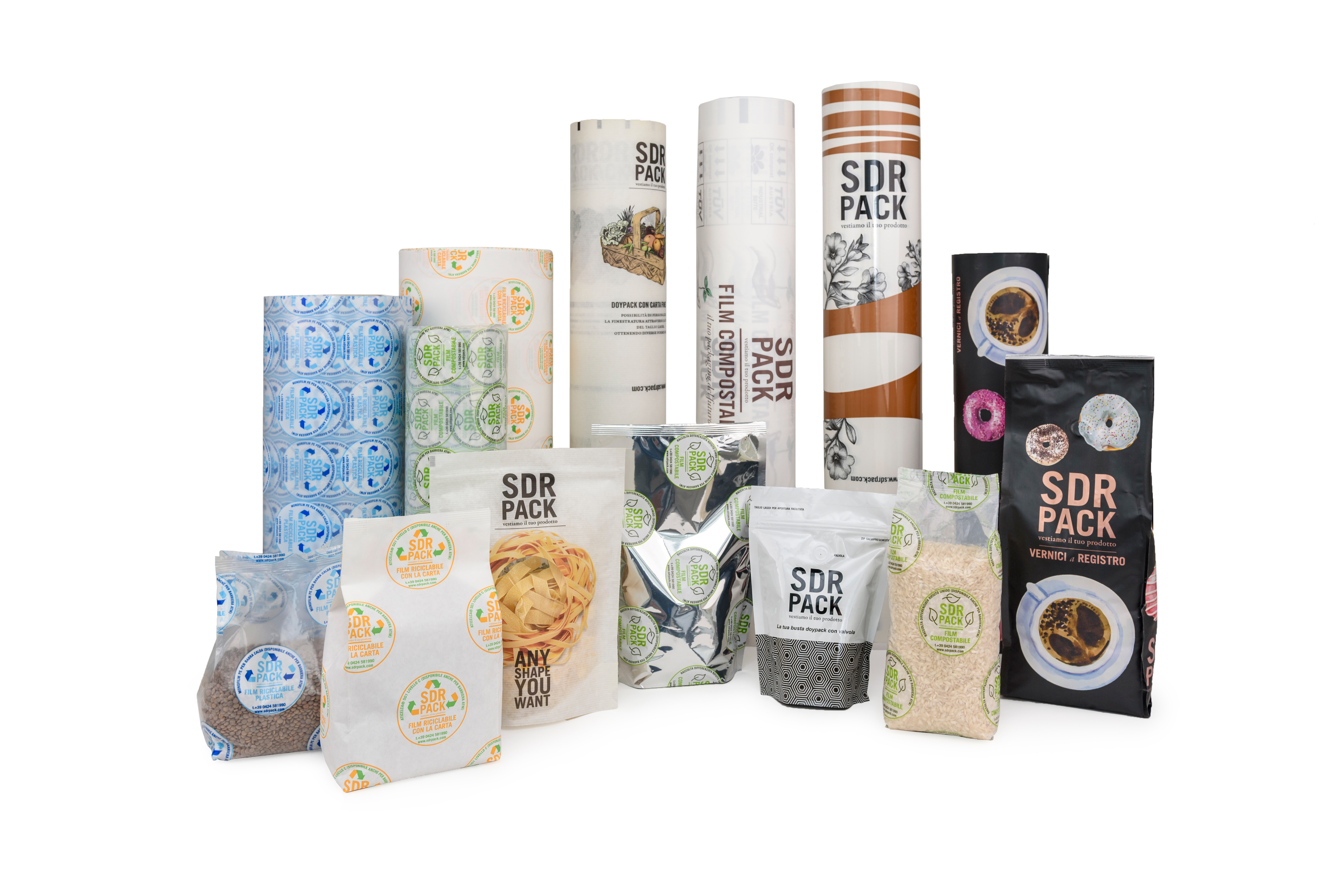 Specialised in the production of flexible packaging in different types of material, monofilm and laminated, in flexographic and digital printing, SDR Pack is a Vicenza-based company that looks at sustainability and eco-friendly packaging as a fundamental lever for market development. We asked the Sales Director, Nicolò Ferracin, some anticipation of his presence at IPACK-IMA and his vision of the market in the coming months.
What technology do you particularly value in this period?
"As an innovative and dynamic industrial company," says Ferracin, "we aim to reduce the use of non-recyclable packaging by proposing new sustainable solutions designed specifically for our customers. Through increased investment in research, last year alone we increased our production of recyclable material by 17% compared to 2020. Our goal is to produce eco-friendly solutions for 70% of our production by 2025.
We have recently carried out a Life Cycle Assessment (LCA) for six of our most representative products to identify their environmental impacts: raw materials used, transport, processes within the plant, end-of-life scenario: disposal/recovery.
Thanks to this study, which complies with the International Standards ISO 14040 and ISO 14044 and is based on 'from cradle to gate + end of life' system boundaries, we can monitor the impacts of our products and take action to reduce them."
What are your expectations of the event?
"We believe in direct and constructive dialogue with our customers, and with other players in our sector. Only in this way is it possible to identify new technical solutions that are even better in terms of practicality, runnability and sustainability. This is our goal: to stand by those who have chosen to believe in the future. IPACK-IMA is certainly an opportunity to take all this forward, encouraging networking and creating new business opportunities. Those who choose to collaborate with SDR PACK recognise in us a partner who offers forty years of experience, a strong propensity for innovation, a wide vision of what are the new market trends, and a high level of service and product quality."
What perspectives do you see for the 2022 market?
"Our market is going through a phase of considerable evolution. A phase that we at SDR PACK find both challenging and stimulating, although sometimes not so easy to interpret. Several trends are emerging in recent times, some linked to contingent situations, others to an evolution in the mindset of customers and consumers. We did not stop, and reacted to this uncertain situation by continuing to offer a comprehensive and reliable service to our customers. Face up to the demands and enable our customers to meet their targets, we have increased our production capacity (by doubling our production space and purchasing several new machines for printing, cutting, laminating) and managed 'emergencies' with a strong and knowledgeable team.
Another aspect that will not be missing from this 2022 projection is innovation. We have decided to invest in the research and development of new solutions for the packaging of food and non-food products, which can be part of a circular economy.