The world meets in Milan for 4 days of innovation and sustainability.
IPACK-IMA opens today, on stage at Fiera Milano with all the process and packaging solutions for the manufacturing industry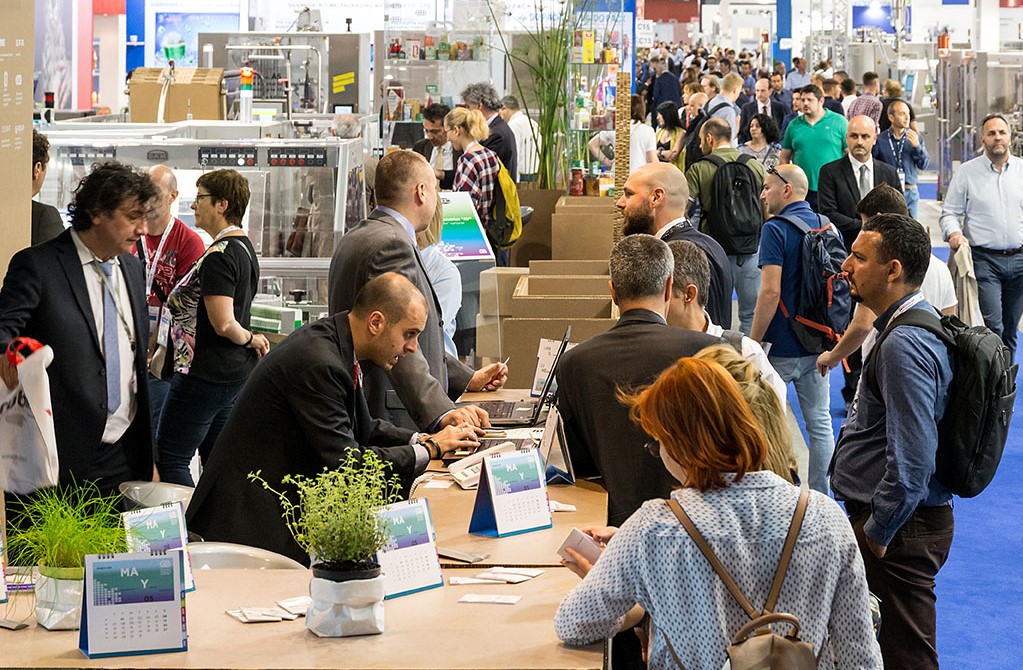 3 May 2022 - Milan. Innovation and sustainability at industrial and production level in a unique European business ecosystem. IPACK-IMA, scheduled at Fiera Milano until May 6th, opens today with a complete and innovation-oriented exhibition offering in the processing & packaging field.
The importance of the event is confirmed by the numbers expressed by the exhibition, as Valerio Soli, President of Ipack Ima, points out: "Latest-generation packaging and advanced processing and packaging systems for consumer goods, industrial goods and durable goods. This is the proposal of IPACK-IMA with more than 1,160 exhibitors, 24% from 27 countries, and more than 25 specialized food and non-food events. IPACK-IMA offers the Italian and international manufacturing industry an attractive and complete technological panorama, with previews of future production trends. A much-awaited and much-needed return to the industry, the right place and time for our exhibitors and visitors who will be at the show looking for just one thing: innovation."
The resilient sector represented by IPACK-IMA contributes to representing Italian excellence at the international level in terms of expertise, innovation and exports.
"The total turnover of the Italian packaging machinery sector in 2021 was € 8.2 billion, a progress of 5 points compared to the previous year. This progress is even more significant if we compare it with that of 2019. On the other hand, order intake in 2021 grew by 9% compared to the previous year, so these are numbers that show how healthy our sector is" - says Matteo Gentili - President of Ucima. "There are great expectations for IPACK-IMA, which will take place in attendance after 4 years from the previous edition, a long period in which companies have developed a lot of innovation. The Italian manufacturers' sector has carefully prepared itself and will show an image of absolute excellence of Made in Italy in the world".
 
At IPACK-IMA business ideas are born, take shape and develop thanks to the endless opportunities for technology transfer offered by the exhibition.
 
"Sustainable packaging, solutions for the selection and processing of raw materials, innovative materials, applications for e-commerce and the smart factory. IPACK-IMA 2022 and, most of all, the exhibitors at the show are offering a great deal of content. We asked each exhibiting company to bring at least one innovative solution and the industry surpassed itself: we will have more than 2,000 product and process innovations at the show! IPACK-IMA is thus consolidating its position as the meeting and comparison point for the consumer goods, durable goods and industrial products of the next three years.  At IPACK-IMA, the new way of manufacturing will take shape, with machines, plants and products becoming increasingly efficient, interconnected and sustainable" - explains Rossano Bozzi, CEO of Ipack Ima. "For this edition of IPACK-IMA we are proposing many innovations, also at the exhibition level, which further consolidate the strengths of the event with the lifescience world, which will find specialized applications for the sector through our cooperation with Pharmintech, and the liquid food & beverage segment to which we have dedicated an entire pavilion for the first time". 
 
Sustainability of the packaging supply chain
 
IPACK-IMA is hosting the third edition of the international conference Packaging Speaks Green, organized by Pack-Media in cooperation with UCIMA and AMAPLAST, where world experts such as Alec Ross, Hillary Clinton's digital consultant, major consumer brands such as Ferrarelle and Procter & Gamble, institutional stakeholders from CONAI to the Ministry of Foreign Affairs, will outline strategies for the ecological transition of industrial supply chains in the coming years. The international forum will be divided into several sessions on the strategic role of packaging, during which the specific production sectors in which packaging is used will be discussed, involving many aspects of the everyday life of increasingly aware citizens and businesses.
 
Packaging design and innovative solutions to reduce environmental impact; eco-design solutions combining functionality, aesthetics and ecology are the protagonists of the WorldStar Packaging Awards, promoted by WPO (World Packaging Organisation) and the Best Packaging Awards organised in cooperation with the Italian Packaging Institute. Two initiatives celebrating excellence among international packaging manufacturers and users at IPACK-IMA.
 
IPACK-Mat, IPACK-IMA's project enhancing the value of all packaging materials, offers a journey among the most innovative materials with over 180 exhibitors and a special area dedicated to smart packaging inspired by eco-design. The ideal occasion to celebrate CONAI's 25th anniversary: the consortium, main partner of IPACK-Mat, is a true protagonist of the circularity paradigm that makes Italy one of the most virtuous countries in the EU with an overall 68% of separate waste collection, of which 21.6% use of recycled materials (source: Circular Economy Network).
 
Industry 4.0, IOT, digitisation and start-ups: a walk through the factory of the future
 
Factory innovation is on stage at IPACK-IMA Digital, a project developed in cooperation with MindSphere World and designed to accelerate the digital transition in the factory. The thematic itinerary offers guided demos on exhibitors' stands to discover the potential of industrial IoT to monitor all relevant metrics at process and packaging level. In addition to the digital innovation walk through the stands, there will be a series of workshops on 4, 5 and 6 May that will see Coca-Cola, Baxter Biopharma and De Cecco on stage to explore the themes of smart manufacturing.
 
The exhibition route then leads to the Smart Factory by IPACK-IMA, where a number of production lines, implemented thanks to collaboration with a selection of innovative companies, welcome visitors with live demonstrations such as the automated and sustainable line for the processing and packaging of hummus single-portion trays and a demo line dedicated to the processing and working of cookies and snacks.
 
Innovation in the present, but also in the future, with the Italian START-UP project which, with the support of ICE-Italian Trade Agency, promotes the meeting between innovative Italian companies and big industry. Italian Start Up is an open space where emerging Made in Italy technology companies present their potential to established market players, creating a synergy between different innovation contexts. Participants in the initiative: AUTOMA SISTEMI SRL, BASCA SRL, BLUETENSOR SRL, INFINITY ID SRL, MARK ONE SRL, NAZENA SRL, NSA SRL, SAFER SMART LABELS SRLS, PIKKART SRL, STOORM5 SRL, TRADOO SRL, XNEXT SPA.
The partnership between ICE-Italian Trade Agency and IPACK-IMA has been consolidated also in terms of export support for companies involved in the exhibition, with over 350 buyers carefully profiled and hosted at the event to meet the business needs of companies operating in the various Business Communities through which IPACK-IMA exhibition itinerary is divided: Pasta, Bakery & Milling (Pavilions 1-3); Sweets, Confectionary & Snacks (Pavilions 1-3); Food, Fresh & Convenience (Pavilions 5-7); Liquid Food & Beverage (Pavilion 4); Pharma & Nutritional (Pavilion 2); Chemicals & Home Care (Pavilion 2) and Beauty & Personal Care (Pavilion 2), solutions for durable and industrial goods (all Pavilions) and tertiary and end-of-line packaging applications for all industrial sectors (Pavilions 6-10). 
The supply chain approach that was so well received in the last edition is confirmed. IPACK-IMA reconfirms its membership in The Innovation Alliance, the event dedicated to instrumental mechanics, and this year will take place in conjunction with Print4All, GreenPlast e Intralogistica Italia.
.
An important opportunity to discover the best technologies for the manufacturing industry, with products ranging from green solutions developed by the world of rubber and plastics to food processing technologies, from packaging for the food and non-food sectors to graphic customization, through to storage and handling of the finished product. Machines that manage different phases of the industrial production process share a very high level of innovation and major investment in research and development, especially in light of the major changes that are sweeping every sector.
IPACK-IMA awaits you at Fiera Milano from May 3rd through 6th with the best of innovation for the manufacturing industry, in an extraordinary event where professionals can interact with a specialized offer and transversal answers to their needs in terms of products, technology, solutions and business.
Ipack Ima Srl Press Office
Mail: press@ipackima.it
Marco Fiori - Mail: marco.fiori@intono.it Mobile: +39 334 600 7739
Maria Costanza Candi - Mail: mariacostanza.candi@intono.it Mobile: +39 349 1019253