Ricciarelli: technology and innovation for complete automation solutions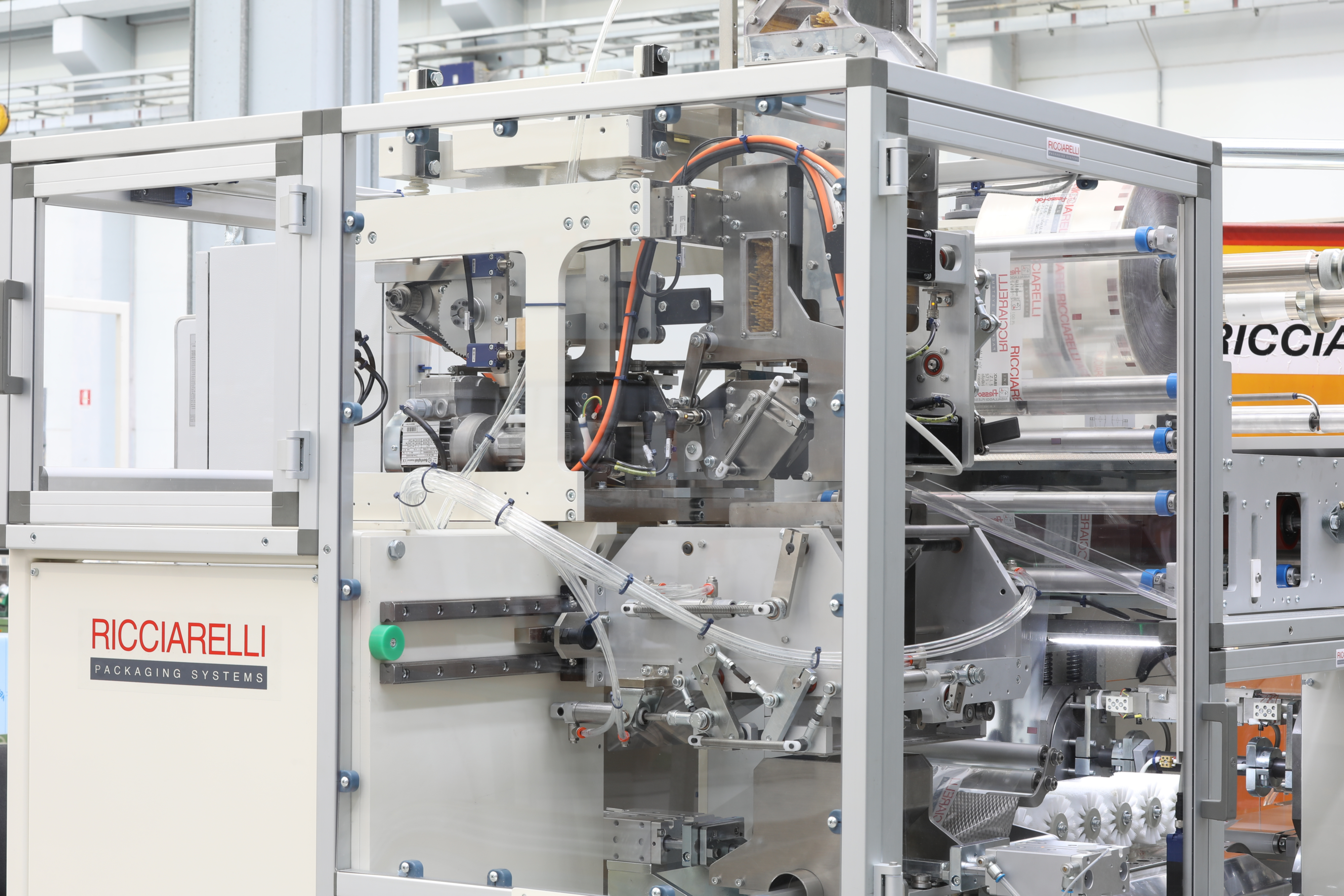 With a long history dating back to the late 1800s, Ricciarelli is today a multinational group with a strong specialization in industrial automation and packaging plant design. We asked Alberto Mangani, Head of Research and Development, and Daniele Bagni, Commercial Director, about their vision of the market in the coming months and the point about the sector.
What technology do you enhance particularly during this period?
"At Ricciarelli Packaging Systems we manufacture and install complete packaging systems", says Daniele Bagni "developing within our company the mechanical, hardware and software design of all the machines that make up the entire automation line, starting from feeding systems, weight determination, primary and secondary packaging up to palletizing. This allows us to have a global view of the process, offering highly integrated and technologically aligned solutions."
A technological vision is essential for defining a development strategy, where research and innovation play a decisive role.
"In recent years we have taken several paths based on some technological focus.", says Alberto Mangani "We start from the idea of eco-sustainability and energy saving, in particular for primary packaging: the continuous attention that the company is paying to the environmental protection has led us to confront the need to develop systems capable of treating eco-sustainable materials, such as paper, or recyclable monomaterials, trying to maintain the same production performance that was achieved with the films used by the producers until now. In addition, we have encouraged the search for new proposals for pouch packaging, another valid alternative in terms of sustainability".
Another important topic is the implementation of smart and user friendly interfaces on which Mangani continues: "we have developed systems that allow from time to time an increasingly simple and immediate management of machinery, through interfaces installation designed to offer high levels of ergonomics. Today our technicians have the opportunity to connect to machinery at any time through their smartphone and manage many directly operations: in a world that constantly changes and evolves as it is the one we live in today, this is a fundamental help for our customers."
In terms of the interconnection of lines with business management systems and remote connectivity, especially for technical assistance purposes, the development of innovative solutions is continuous.
"In the last year", says Alberto Mangani " we have given a strong push to digitization and remote assistance, ensuring remote installation and maintenance operations, thanks to the sophisticated technologies of  our machines and using, in some cases, the help of many relocated technical teams in different areas of the world, prepared to perform the necessary operations on our technologies. All this means being able to constantly monitor the machines: the next step will be to study a kind of predictive monitoring to intercept any problems even before they occur in order to avoid production activity interruptions.
The attention to the interfaces ergonomics extends to the machines design, which reflect the concepts of compactness, flexibility, ergonomics. "This is another aspect on which we have focused", continues Mangani "that is the possibility of offering machines that were able to have more services, while maintaining a small size. We are aware that the space available to producers, in most cases, decreases as time progresses. That's why we've focused on compact devices that meet a high production standard. Our latest solutions are born with a view to producing different packaging formats taking up the space of a single machine."
Looking at the commercial offer, tradition and innovation merge into end-of-line solutions, a topic that Daniele Bagni talks about. "In parallel with the primary packaging, we are carrying out several projects for the end of the line, to be able to offer our customers numerous solutions, from time to time customized, that ensure extreme efficiency and speed both for American type cartons, which we could define the standard models, and for the increasingly requested display cartons. We have many projects on the table that we are carrying out and daily tested, also together with our customers, to meet this constantly evolving market demand".
What expectations do you have about the exhibition?
"First of all" says Bagni "we hope to be able to carry out the fair regularly, because this would mean that we put behind us at least in large part this bad period that has so conditioned our lives. That said, we are confident that IPACK-IMA 2022 can represent an opportunity to return to meet customers and suppliers live: in the last year we have learned to take full advantage of all those technologies that allow us to approach and support them even remotely, but we believe that it is also important to recover some of that human contact that has now completely been lost. We will use this appointment to seek confirmation on the goodness of our choices, especially with regard to the new machinery that we intend to present. It will also be interesting to see and understand how the big trade fairs will evolve after this period of forced stop."
What market prospects do you see for 2021?
"The market" says Bagni again "apparently seems to give positive signs also for 2021: in the past year we have seen a general increase of packaged products consumption, which has turned for our customers into the need to implement their production ranges and, consequently, packaging lines.
Compared with previous years, new areas and new consumers have emerged: think, for example, about the Central Africa countries.
On the other hand, we must also bear in mind that areas that are strategically important to us, such as the South America countries, have recently been hit by important socio-political issues, which have generally led to a reduction in producers' economic investment. Overall, we believe we can continue to work continuously throughout 2021 and arrive at the fair, in 2022, with further technical innovations for our customers."